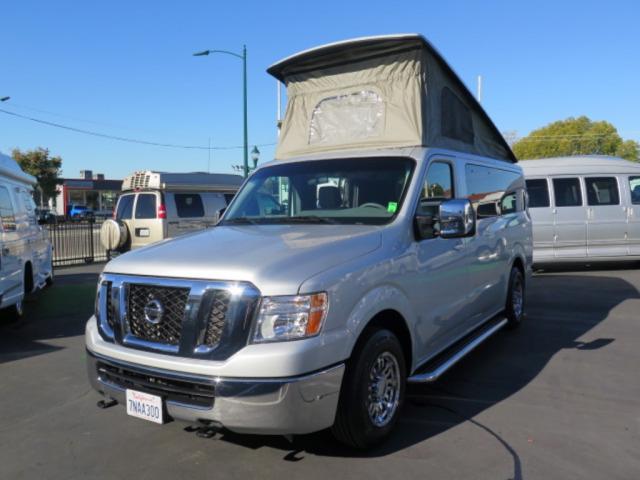 The Nissan N6-Active Class B Motorhome is a multi-utility vehicle that has all the benefits of a motorhome, family SUV and tow vehicle. It's also just a cool vehicle to have.
Roadtrek is a Canadian innovator of vehicles that's been in operation for 40 years specializing in bringing the motorhome aspect to vehicles.
Design
The Roadtrek N6-Active has been constructed over the chassis of a Nissan NV2500. The van is then powered by a V8 engine with a five-speed transmission. The frame is a boxed ladder structure that has the same rugged and complete design as your average truck. Despite its heavy-duty design, the suspension makes it drive like a town car.
Interior
This vehicle has a cargo and occupant capacity of 1,250 lbs.—more than enough to carry five occupants and plenty of cargo space to haul your gear. Along with towing and functioning as a motorhome, this vehicle is great for taking the kids to and from soccer practice. It has seatbelts for six in the back, so you'll never be overwhelmed.
Behind all the rows of seating is an ample cargo area where just about anything can be stowed. The whole setup is augmented by the fact that the back door opens wide to allow quick and easy entry and exiting.
One of the super handy and intuitive design choices with the N6-Active Class B motorhome is the fact that there's a screen for the backdoor. You can enjoy a good drive-in movie or take in the stars without having to worry about insects.
Another cool aspect of the seats is that they swivel to face the back portion of the vehicle or any degree in between. There's a post that can be installed with a fixed tabletop. At night, the bench seats easily fold down to create room for sleeping. There's even an optional panel that can be installed so that kids can sleep across the two front seats. A pop-up overhead sleeping quarter brings the total to five people who can sleep comfortably in the RV.
Additional Features
This RV can be a home away from home when you consider all of its features. While it doesn't come equipped with a toilet, it has a shower, a freshwater tank, a constant-flow electric water heater, a sink with a hot/cold faucet, a refrigerator and even a microwave.
Perhaps one of the coolest features in this RV is the pop-up roof. This allows for extra standing height so that even someone well over six feet tall can stand up straight. Ventilation panels are pre-designed into the fabric sides of the pop-up portion. Natural convection allows air to flow upwards where it can be enjoyed by whoever's taking it easy up top.
Another excellent feature of the N6-Active Class B motorhome is the addition of a variety of cords for all your mobile devices. Sure, you might be trying to escape it all, but the devices are probably going to make it onboard too. With the variety of ports, you'll be prepared when your technology needs a charge.
Is the Nissan N6-Active Class B Right for Me?
So many features make the Nissan N6-Active Class B motorhome an excellent vehicle for the adventurous. It's extremely versatile, functioning as an SUV while at the same time performing as an RV.
Plenty of vehicles out there can function as motorhomes. So many, in fact, that it can be tricky to figure out which one will suit your needs. While this list of features isn't exhaustive, it should give you a glimpse of what the Nissan N6-Active Class B motorhome has to offer.