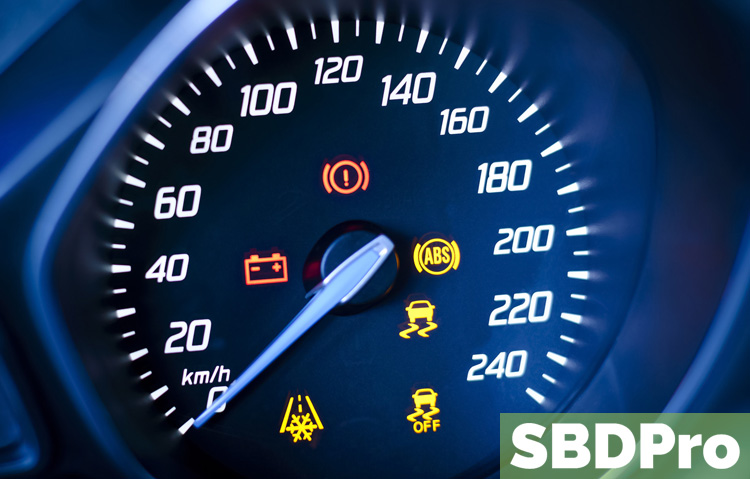 Every car owner has a dashboard that lights up with different symbols when they start their vehicle. Some of them are more familiar to us than others.
Keep in mind, every time you turn on your vehicle, each system does a self-check. The dashboard symbols will usually light up for just a few seconds, then go away. This means they're all in working order—no need to be alarmed.
However, if a light or symbol stays on, then refer to this handy guide (as well as your vehicle manual) to find out what it means and what you need to do to keep your vehicle in good working order.
Oil pressure light
This light looks like an old-fashioned oil can image. Its red light indicates there's an issue with your car's oil pressure system. Your car is either low on oil or the oil pump isn't circulating enough fluid. If the light turns on, the issue should be addressed as soon as possible.
Tire pressure warning light
This symbol lights up yellow and looks like an exclamation point in the middle of a tire tread. This symbol indicates that the pressure in 1 or more of your tires is too low or too high. If you see this light turn on, take action immediately.
Engine temperature warning
This symbol resembles a thermometer in the middle of water. If you see this red symbol pop up, it means that your engine is overheated. It's important to address this immediately to avoid further damage.
Traction control light
Another red symbol, it looks like a car with skid marks behind it. This simply indicates that your vehicle's traction control system is activated. While it's not cause for concern, it does mean you should drive carefully. If you're driving through rain or snow and the system detects a wheel slipping, it applies the brakes automatically.
Anti-lock brake (ABS) warning light
If you see the letters "ABS" light up, it means something is wrong with your anti-lock brakes. Anti-lock brakes keep your car in contact with the road. If this symbol lights up, it's important to diagnose the issue as soon as possible.
Traction control malfunction
This is a yellow triangle with an exclamation point inside and circular arrow. This symbol indicates that your vehicle's traction control system is malfunctioning. In some cars, this light comes on when there are problems with your ABS.
Engine warning (check engine light)
Most car owners panic when they see this light turn on, but it's not always a serious issue. The check engine light may appear for a variety of reasons.

Sometimes, it can indicate a serious issue, such as low oil pressure or overheating. It could also just mean your gas cap is open, loose or cracked, causing fuel to evaporate.

Regardless of the issue, it's wise to pull over and check your gas cap and other systems in your vehicle if this light pops up. If it's flashing, immediately pull over! Flashing check engine lights often signal a problem that could cause serious damage if ignored.
Battery alert
If a red battery pops up on your dash, it means there's an issue with the vehicle's charging system. It might mean there's a loose or damaged battery cable. It can also signal that your alternator belt is broken.
Low fuel indicator
Most drivers are very familiar with this symbol as it simply means you're running low on gas.
Automatic shift lock or engine start indicator
A green circle and shoe will light up when you're trying to shift gears or start your ignition without engaging the brake. The automatic shift lock will lock your vehicle in park or neutral until you engage the brake.
Seat belt reminder
If a red person with a red line across them lights up, it's just your car reminding you or your passenger to buckle up. It's often accompanied by incessant beeping that won't stop until you put on your seat belt.
Airbag indicator
The airbag indicator resembles a person sitting in a car with a big circle in front of them. This means something is wrong with one of your airbags or the system as a whole. Airbags keep drivers and passengers safe in the event of a car accident. If this yellow light turns on, it's wise to address the issue as soon as possible.
Security light
If your vehicle has an anti-theft system, an image with a car and lock will light up. If the symbol doesn't go away after you start your car, it means something is wrong with the system.
Fog lamp indicator
Most drivers are familiar with their brights and the symbol that pops up when the lights are in use. Also known as fog lights, they should be used if your visibility is less than 100 yards. Turning them on unnecessarily can be hazardous to other drivers.
Washer fluid indicator
Imitating the motion of your windshield wipers, this symbol means that you're low on washer fluid. You'll want to fill up the reservoir with fluid as soon as you can.
Door warning light
On most vehicles, you'll see this light if 1 or more doors aren't closed tightly, including the trunk or hatchback. It looks like an aerial view of a car with its doors open.

Keep in mind that every car is different, so the symbols on your dashboard may vary slightly from the ones we've mentioned. If in doubt, consult your vehicle's owner's manual. While some of these lights aren't cause for panic, it's important to get in touch with a mechanic when you notice that they stay on.