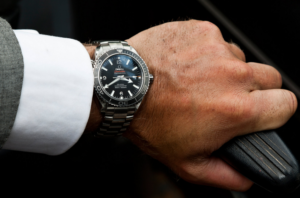 We all see our favorite movies and see those big time and small time movie stars flaunting their expensive Rolex or maybe even those pre-owned watches that still look so good and fabulous you would never suspect it to be bought from a pawn shop. Here are some of those movies and stars that often sport that nice Rolex a lot of people would die for.
Skyfall
This fantastic action movie's main character, James Bond, is always wearing some expensive Rolex. Not only is this character of the glamorous, yet spy look, but Daniel Craig is a big fan of Omega watches. He is seen in several James Bond movies showing off his Omega Rolex.
Le Mans
This older film stars Steve McQueen, who has an eye for one watch. He sported his waterproof TAG Heuer Monaco in Le Mans when it was only a year old. After this movie, the Rolex became a popular item throughout the world. To this day, the TAG Heuer Monaco is still one of the most favorited watches.
Friends With Benefits
Although Justin Timberlake is a famous pop-star, he is also a very well-known actor. Timberlake stars in Friends With Benefits and is seen wearing his Breitling watch. This watch is a classic and Timberlake shows it off well. The Breitling Chronomat 44 B01 is one of his favorite watches and is worth over seven grand.
Dr. No
Sean Connery is also known as the original James Bond. Connery is also known for getting well into his characters and showing off his Rolex's in a classic display—usually while his arms are resting around a co-star's waist. In Dr. No, Connery displays his Seamaster Rolex, which Omega says it is the ideal underwater watch.
The Lincoln Lawyer
This movie is known as the best Matthew McConaughey movie. Not only is he a big time movie star, he also is a huge Rolex fan. In The Lincoln Lawyer, McConaughey displays his very business looking TAG Heuer Grand Carrera. It may not be waterproof, but it rates in the Top Ten Best Rolex's.
Fast and Furious 6
There are other big time movies and stars that sport and show off those professional and glamorous Rolex watches, but the biggest and most loved star of all is Paul Walker. Walker is well-known for his role in Fast and Furious and wore a Jaeger-LeCoultre, also known as the "extreme watch."