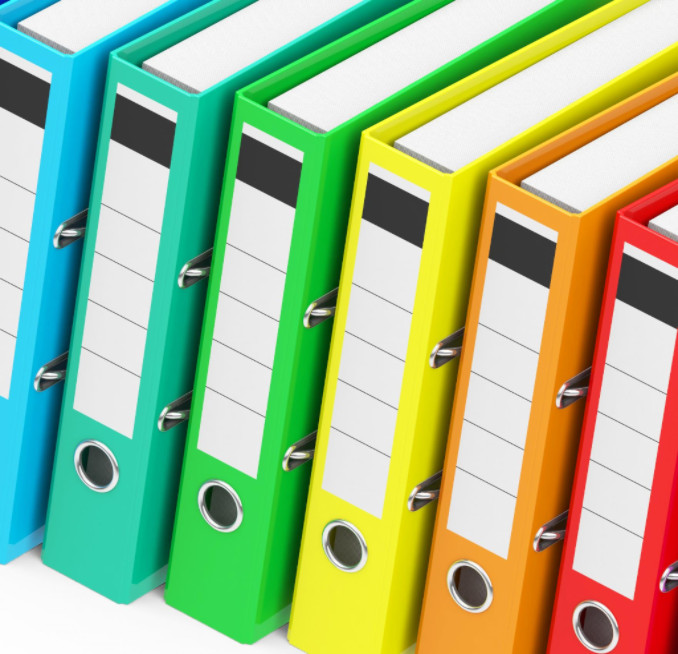 Organization not only allows you to keep track of your important documents, it can also provide an attractive package in which to market your company if placed in a binder. Although many companies are still relying on archaic file folders for organization, using a 3-ring binder is a much quicker organization scheme.
The benefit of using a 3-ring binder for organization is that setup is quick and easy. Here are four basic steps standing between you and an organized custom binder.
Step 1: Get a custom binder.
Any standard 3-ring binder will be perfectly fine for this task, but there are other custom ring options out there. Choosing a standard binder, however, allows you to use standard hole punching equipment.
Step 2: Create content sections.
Next, you should take stock of your content and divide it into relevant groups/categories. Before beginning to place materials in your binder, consider how you'd like your content to flow.
Step 3: Organize with index tabs.
Once you've organized your sections, place an index tab sheet, labeling each section, at the front of the section. Index tabs can be invaluable when it comes to having an organized binder as they allow for easy access to your information.
Step 4: Punch holes and fill binder.
Now that everything's organized, it's time to assemble your binder. Punch holes where needed and place everything in the desired order. Don't forget to include any extras (like a business card holder) at the beginning of your binder.
For further tips on how to design a custom binder, check out: How to Organize Files with a Custom Binder.