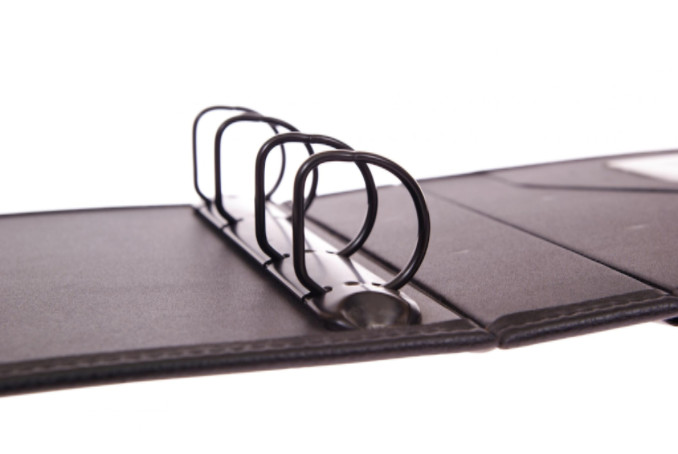 Three-ring binders are wonderful tools for crafting and productivity. They are cheap, big, expansive, and come in all shapes and colors.
In truth, there are so many things you can do with 3-ring binders that you may become a believer after reading this, if you were not one before. It is more than likely that you have a few of these laying around your home or office; why not repurpose them into something spectacular?
Before you let your creative juices flow, make sure the binder you are considering will meet your needs with this information on binder capacity.
Here are some ideas:
Entertainment "Suitcase"
Super glue wooden or plastic handles to each sleeve of the binder until it can form the shape of a carrying bag where the handles are holding the binder like a suitcase.
Inside the binder, the sky's the limit! One idea is to make an activity center by dividing the inside walls of the binder into four or six separate spaces by delineating each square with tape. In one of the spaces you can make a pouch to hold marbles or dice, while another space can hold a sticky note pad, glued to its designated space for writing.
Attach a crayon or bag to the three rings, and the other designated spaces can hold anything from an attached calculator to games, stickers, mini books or even mini cards for traveling.
Here is a great example of this idea.
Traveling Garden
Yes, a garden! Get all your bags of seeds compartmentalized and organized in a 3-ring binder. Seed bags are amazing because they are colorful and display the final product right up front.
However, if you also add the actual seeds to the pocket where you will keep the seed bag, you can get a clearer sample of what your seed looks and feels like. Not to mention, it makes your herbalist experience even more creative and fun! Find one here.
Portable Pinterest "Pintabook"
Did you know that you can create a real Pinterest "board" in a binder by simply getting a bit more creative? Rather than mindless "pinning" in front of the computer, a real, hands-on Pinterest binder can help you focus on your projects more effectively by making you look for tangible visuals to collect.
Try it with your kids! From Christmas lists to classifying animals, these amazing ideas can be put together in well-organized binders. You will love the final products: bright, real pictures collected and organized together by you or your kids.
"WOW! Work" Book and Portfolios
Decorate your binder with rhinestone art, coins, Legos or any of your favorite themes. Every time you get kudos for a job well done, get a good recommendation letter, finish a project or simply receive a good evaluation, save it all in your super star "WOW Work" Book. Not only will it help boost your self-esteem, but it can double up as a portfolio for a future job interview.
"Year in Review" Memento Keeper
Is this your best year yet? Do not take it for granted. Memories from your graduation year or your wedding year do not come in isolation. Save as many mementos as you can that are related to the entire year: the hottest selling magazine edition of the year, the menu from the best restaurant you tried, an everyday flyer from a popular store, or even a copy of the PennySaver you keep seeing over and over.
These tokens may not mean a lot now, but they will become tangible treasures in the future when you look back in time.
Personal Space Makers or Instant Cubicles
Whether you are a parent, teacher, college student or even just someone who values privacy, you can decorate the outside of a binder with the words "This is my personal space" or "I am busy now." These binders make good instant cubicles. Just prop it up, and crawl inside the protective walls that will help others understand that you want to be free from interruptions.
If you are a teacher, this is a fantastic way for students to learn about boundaries, privacy and doing their own work.
Get your binders together and start making amazing projects today!