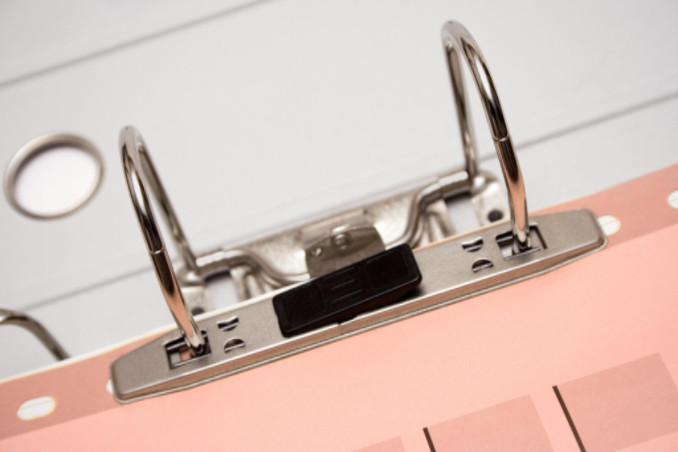 Choosing a three ring binder isn't as cut-and-dry as you might think. There are a number of options available when it comes to choosing a binder, such as the huge assortment of ring binders available at your disposal.
One of these options is the ring style. Binders come as either a round O-ring or D-ring. D-rings are capable of holding more content compared to their counterparts, the O-ring binders.
What are the differences between an O-ring binder and D-ring binder? Well, they can be boiled down to about 4 main distinctions, including shape, measuring sheet capacity, the capacity of pages and the type of mounting.
With that in mind, there are some things you should consider when choosing the best three ring binder for your needs.
Shape
The first noticeable difference between three ring binders is the shape they come in. In fact, that is where they also get their names. The O-ring binder is a round binder which is at times referred to as the round ring binder. On the other hand, the D-ring binder is shaped like a "D" and comes either as an angled D-ring or a straight D-ring binder. While both can do pretty much the same task, D-ring binders and O-ring binders tend to have slightly different shapes especially when filled to the brim.
Measuring Sheet capacity
It is another way to differentiate between the two ring binders. When you want to determine how many sheets a D-ring binder could hold, you will need to measure the straight side of the D-ring shape. When it comes to the O-ring binder, you will measure the diameter of the ring which is on the inside.
Round rings are perfect for normal capacities, partly because they do not lose shape when the number of sheets in them is within the normal range. D-ring binders, on the other hand, will maintain shape since when measuring sheet capacity, we use the straight side. D-ring binders will thus be harder to fill to the brim.
Capacity of Pages
Aside from the size of the rings, the shape also determines the number of sheets that a ring binder can hold. D-ring binders, for instance, have the capability of holding up to 25% more papers than the standard round ring binder.
Most people use the O-ring for normal capacity. If you want a binder which is ideal for fewer sheets or a handful of documents, then you should consider the O-ring binder. They have a lower sheet capacity even though they are commonly used. A D-ring binder comes in handy most especially when you are working with larger projects which will result in lots of paperwork.
Mounting
Another difference between these two ring binders is how they are mounted. When you look at the D-ring binder, you will see that the ring is offset to the back cover. Thus, the pages lie flat which, in turn, makes it easier for you to manage when working with it. At the same time, this kind of mounting reduces stress on the individual pages and therefore reduces the chances of the pages tearing or coming off.
With the O-ring binders, the ring is usually mounted to the spine. Overfilling the O-ring binder over long periods will result in stresses in individual pages. It would thus be wise to only fill them to their recommended capacities.
All in all, both O-ring and D-ring binders have their unique uses. When it comes to which ring binder you want to choose, you will need to determine the number of pages that you are looking to accommodate over time so that you can pick a binder that will serve you for a longer period.