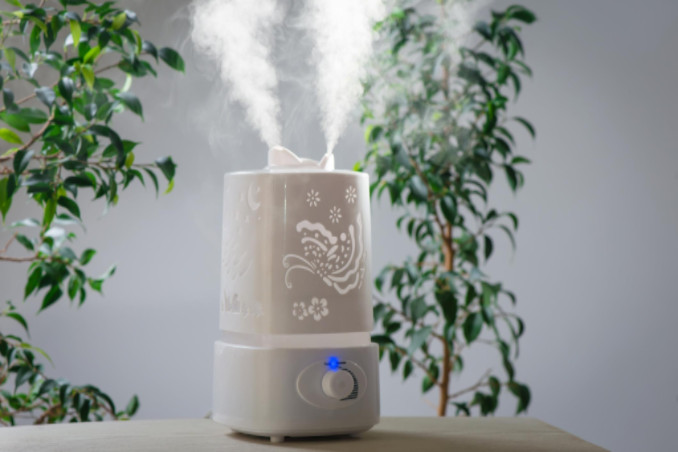 Allergies, colds and nasal congestion can all be tied together because they give people the same ailments – achiness, headaches, sniffles, coughing fits, runny eyes, sore throat and other annoying symptoms.
Chances are, if you are suffering from one of the symptoms listed above then you're already taking allergy relief pills and antihistamine tablets. Many homeowners aren't aware that there may be another method that can be used to find some relief.
What about using a humidifier or a dehumidifier for allergy-relief?
While these HVAC devices won't completely heal you from these illnesses, they can go a long way to help people find relief. Knowing how a dehumidifier and humidifier works helps in understanding how to relieve certain symptoms:
Dehumidifier

Works like a residential HVAC or air conditioner.
A fan system pulls air in then it passes over cooling coils which removes moisture.

Humidifier

A misting device. You can choose between warm and cool mist models which increases moisture levels in the air.
Which do I need?
Choosing between a humidifier and a dehumidifier has always been the standing question when it comes to which one is better at relieving the symptoms of allergies, colds and nasal congestion.
Surprisingly, if you have a cold or a respiratory issue, both devices help breathing conditions by changing the moisture in the air; however, these devices perform the change in different ways.
One simple description involving the functions of these two devices is that a humidifier increases the moisture in the air when it's too dry (below 35%), whereas a dehumidifier decreases the moisture in the air when it is too humid (above 50%).
Which one, then, works best to help improve cold and allergy symptoms? The Mayo Clinic and allergy specialists believe that it depends on the root of your symptoms. It also helps to know when more or less moisture is needed.
Both humidifiers and dehumidifiers have seasonal usage, such as:
In the fall and winter when the indoor air can become dry, a humidifier works best to ease itchy/dry skin, chapped lips, raspy throat, etc. This device further helps symptoms like nose and throat congestion, rhinitis or dry nose condition or a persistent cough associated with colds and allergies.
A dehumidifier is best used to extract excess moisture in warm and humid environments like spring and summer.
Humidifiers
Humidifiers are available in four different models: steam, impeller, ultrasonic and wick. Humidifiers can help reduce cold and allergy symptoms as well as aid breathing by clearing the mucous from a person's airways. This device puts more moisture into the air which helps to loosen phlegm and sinus congestion in the nose and chest.
Yes, you will cough under this treatment, but the coughing helps clear out the mucous in your throat. A humidifier also helps your skin to become more hydrated. This is helpful if you are taking prescribed or over-the-counter medications or live in a dry climate.
Dehumidifier
Dehumidifiers cause a quandary as to how helpful they are with colds and allergies. There is no pure scientific research that identifies dehumidifiers as alleviating allergy or cold symptoms. The only proof is substantiated by consumers and some physicians who recommend using a dehumidifier to relieve nasal passages, coughing, sneezing and other symptoms.
The main concept in using a dehumidifier when a person has a cold, allergies or nasal congestion is that this device can help decrease the moisture that supports allergen growth in the first place by improving air quality and preventing the growth of certain bacteria and viruses.
In addition to operating like a residential HVAC unit, dehumidifiers are best known to prevent curtail indoor particles like dust mites, mold, mildew, etc. The CDC identifies these contaminants as allergy causing agents. These contaminants cause allergy type conditions which triggers breathing difficulties, sneezing, headaches and a runny nose.
Continue reading about the other health benefits of humidifiers and dehumidifiers.