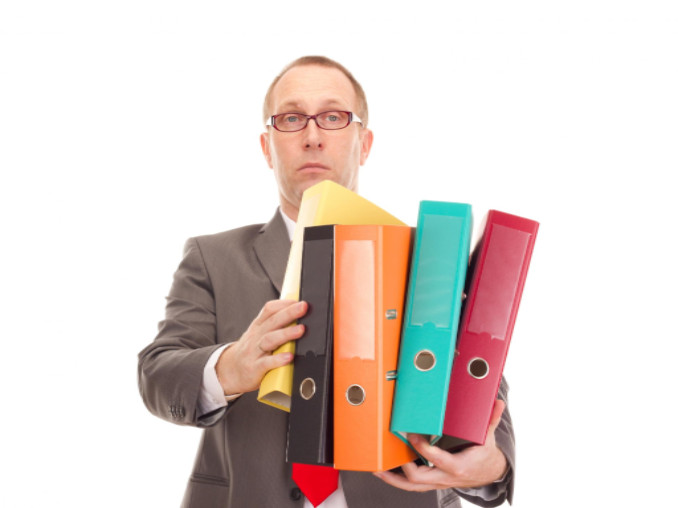 There was a time when certain office supplies came in certain standard sizes with a limited number of features, and what you bought from one company was pretty much the same as what you could get from another.
Now, with a global market emerging, many office supplies come in a wide range of styles with an almost unlimited number of features offered at vastly different price points.
One of the basic office staples that has an almost dizzying number of features to consider is the plain, humble 3-ring binder. A signature component in almost any office or work space, today's 3-ring binders come in several different sizes, a wide range of colors and offers a vast array of features.
Here are five things you'll want to consider when making your next 3-ring binder purchase:
1. Weight
Binders come in a wide range of weights, and which one you want is dependent on what you are going to do with it. If you are just using binders to hand out at a presentation for a single use, then you probably want a lightweight binder or even a flexible binder as they will be less expensive.
On the other hand, if you need to use a binder as a resource that you consult frequently and plan on using for some time, you will probably want to invest in a heavier weight binder. These binders will be more durable and better resistant to wear and tear.
2. Ring Style
Traditionally, binders have had two types of rings: O and D-shaped rings. Nowadays, there is a long list of ring types to choose from, but O and D remain the most common. Where the ring is mounted and how it opens makes a difference as well, so be sure you get the right ring for the right purpose.
O-shaped rings are round and best for a smaller number of sheets or if you don't plan on filling the whole binder. D rings are rounded on one side and flat on the other. These are best for full binders since they allow pages to sit flat when being stored but then move freely over the curved portion of the ring.
3. Ring size
Binders are sized based on their ring size which ranges from 1/2 inch to 4 inches. If you are compiling a binder that you will be adding to over time, you will want to get a larger binder than you currently need.
(Here is a guideline of how many sheets each size binder can contain.)
Remember, however, that actual capacity will fluctuate depending on factors like paper weight or whether you use page protectors or not. Be sure and take those factors into account when choosing a ring size.
4. Cover
Binders come in almost every colored cover under the rainbow or you can have your own custom designed covers printed directly onto a binder. There are also websites that offer a wide range of pre-designed covers that you can customize with your own information.
Another option is to purchase binders covered with a clear pocket that allow you to insert a cover that you can whip up on a standard printer. These also come in a wide range of colors and styles.
5. Sheet Size
While many binders are made for standard 8.5 x 11 sheets of paper, there are also mini binders that accommodate half sheets of paper and binders designed for legal-sized (8.5 x 14) paper. Some legal-sized binders also offer a different configuration, with the rings being located along the shorter 8.5″ side of the paper. These binders are often used as covers for large, legal-sized checkbooks as well.
While it may now take you a longer time to choose the right binder for you, the upside is that you can get exactly the right binder for your individual needs. You can obviously get great deals on binders online, but when ordering, it is always a good idea to read reviews. These can help you determine how thick the weight of the cover is and whether or not the binder rings are heavy and durable, or cheap and easily broken.
Cheap rings may be fine if you are buying binders for presentations that won't be used much; however, you don't want to invest a significant amount in having custom binders printed for manuals that will be used regularly only to find they were made with cheap materials that will break quickly.