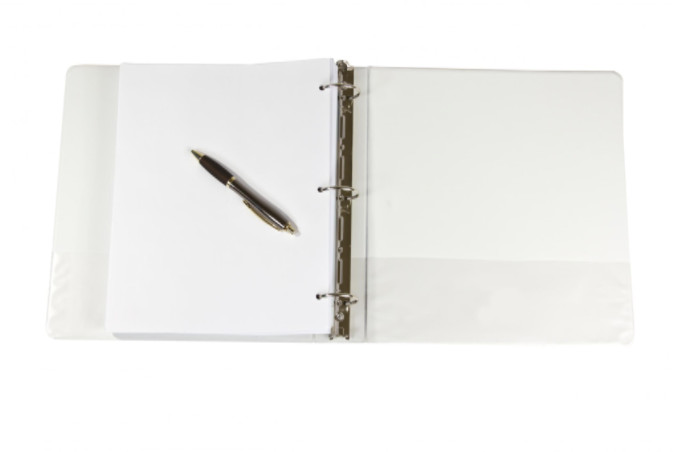 Choosing the correct binder may seem like a small choice in the larger scheme of business decisions, but it is an important one nevertheless. The information stored in a business binder needs to be both protected and accessible. Selecting the best binder for the job will save headaches and hassles later. If you are investing in custom printed binders, you want to ensure you are ordering binders that meet your needs perfectly.
The first choice will be deciding whether to use a vinyl binder or a poly binder. Ask yourself some basic questions:
1. How much daily use will it have?
2. What kind of environment will it be used in?
3. What do you want it to look like?

If the appearance of the binder is a top issue, then a vinyl binder is the best choice. When customizing, the printer will seal top-of-the-line vinyl around stiff cardboard to create an unbending cover.
If you desire custom printed binders, a number of options are available to create the perfect look for your business image. These options include:
Screen-printing. Screen-printing directly onto the vinyl enables you to have designs of up to four colors.
Foil stamping. Using heat and pressure with a foil paper lets you have shiny graphics on your binder.
Debossing. Unlike embossing, which leaves a raised impression on a surface, "debossing" uses dies to imprint an image. It can be used in combination with screen printing or foil stamping.
Padded binders may also be a choice for businesses creating a high-end look as part of their overall marketing strategy. Padded board is covered with a top quality vinyl and custom printed, projecting a high-end image to clients and customers.
If you have your own design sheet that you would like permanently affixed to the cover, a process called "Entrapment" will seal the sheet permanently under clear vinyl. For more flexibility, clearview binders allow you to swap the cover sheet if needed.
Though vinyl binders have many advantages, be aware that they work best in an office setting with light to medium use. The vinyl may soften and sag if exposed to heat, or it may crack if exposed to cold.
Poly binders are soft sided binders that outperform vinyl binders for durability. Temperature changes have little effect on them. They are an excellent choice for papers that must be viewed in more extreme environmental conditions or in areas where they may be handled roughly. They fit well in industrial manufacturing plants, schools, food processing facilities, hospitals, or outdoor occupations.
Unlike vinyl binders, poly binders are flexible. Their flexibility is dependent on the thickness of the solid sheet poly plastic used in their construction. Thickness gauge ranges from .023 for lightweight, extremely flexible binders to .110 for a stiffer binder. But the .110 will not be as stiff as a vinyl binder.
This flexibility also means that poly binders do not stand on bookcases easily. They can be screen printed with up to four colors as well, but they will obviously be made of plastic. Offices looking for more attractive options would be better off with the vinyl binder.
Besides cover art, both type of binders have customizations available on the inside. Pockets, CD holders, label holders, and business card holders may all be added, although it is more expensive to add these features to a poly binder.
Carefully considering your needs will make it easier to select the best binder for your business.